Things to Do & See in the City of Valley
The City of Valley is proud of its heritage and there are several unique points of interest in the city. Local artist Chuck Moore created Rusty, his wife, son, and two dogs using railroad parts and textile mill machine junk in 2002. They stand on a simulated train platform, under a streetlight in front of what used to be Langdale Mill. There are three interesting pedestrian bridges with historical interest. The Rock Bridge is, located in front of  Langdale Mill and was dedicated to Charlie Holloway, who was a noted stonemason in the area. It was built by black stone masons in the early textile days and was given the name of the Kissing Bridge by teens in 1941 because girls would lined up on it and  wait for boys to come by and give them a kiss.The Wood Bridge crosses Moores Creek as you continue along the Rails to Trails and is a favorite spot for pictures. The bridge was built by Horace King who was one of the most respected bridge-builders in Alabama, Georgia, and northeastern Mississippi. As a slave until 1846, King and his master John Godwin worked as partners on major construction projects throughout the southeast. By 1860, he was one of the wealthiest free blacks in Alabama. Also in the Valley area are several cemeteries dating back to the late 1800's. The City of Valley is bordered by the Chattahoochee River on the east  with three boat ramps available for fishing, canoeing or kayaking or just a place to take a picnic and enjoy the sights. The largest park in the area, Shamutt Airport, has a mile long walking track as well as a beautiful view of the river, a boat ramp, and a pavilion with picnic tables that is perfect for an outing with family and friends.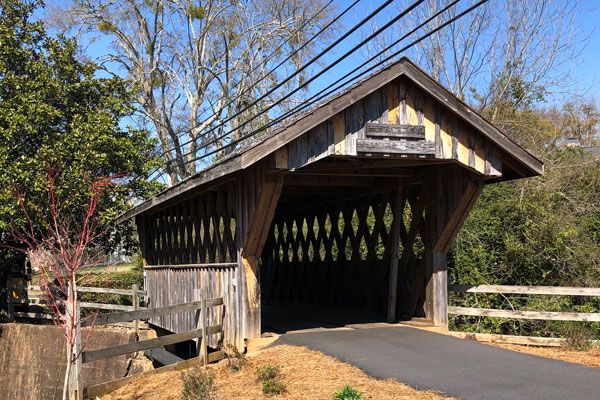 If shopping is more your style there are three locally owned stores. Timeless Antique Mall and River Market with unique items both have antique and unique items. The Cotton Valley Trader showcases local artisans and vendors who create their own merchandise.
Arts Council
The beauty, joy and appreciation of the Arts is part of a vibrant community.  The Valley Arts Council (VAC) celebrates and promotes art in the City of Valley through art shows and displays of local artists' work from photography to stick-men, from quilting to painting. There is an outlet for everyone to express their creative nature.  The VAC is a mutual support society that encourages all art forms on a local level.
The Valley Arts Council is constantly changing and evolving, but its mission- "to promote and nurture the artists of Valley and the surrounding area and to discover unknown artists" – remains the same.  Currently, the VAC has approximately 50 members, but this number is growing because the Arts Council provides a place for people to express themselves in a supportive and satisfying way.  The VAC provides a healthy means for displaying the many varied works conceived by people desiring some fulfilling form of self-expression.
The Valley Arts Council President is Suzie Britt.
For more information about the Arts Council, how you may join, when they meet and when the next show is scheduled, please contact Ms. Britt by email suziebritt@knology.net or phone 334-333-7073.